Decompression Therapy by Dr. Grant
If you've been to a chiropractor after an accident, you may have been suggested to go in for decompression therapy.
The therapy involves the use of a traction table and employs the use of motorized devices that helps to alleviate pain in the back area or along the leg.
Dr. Grant, one of the best chiropractors in the Salt Lake area, uses this nonsurgical method to help patients achieve better mobility of their joints and nerves.
Theory behind Spinal Decompression Therapy
Dr. Grant employs spinal decompression therapy with the goal of pain alleviation in mind. It allows for a favorable internal environment that helps your body to heal bulging, degenerating and herniated discs.
Spinal decompression allows for the traction of the spine and aids in its re positioning to accommodate the burgeoning disc material. This theory is however, not limited to spinal issues only. They apply the same logic for other joints as well.
Dr. Grant can use the therapy to get rid of your pain and uneasiness in a very short time.
Medical Evidence behind Decompression Therapy
While it is a very popular resort for people suffering from back and joint pain, there is not too much clinical evidence to suggest that decompression therapy is very efficacious, as its believer's project. In fact, there are some risks involved. Some experts suggest that decompression therapy is just about as useful as its other inexpensive alternates like manual massages.
Another reason for the lack of medical literature on this therapy is unlike other medical researchers, there are no placebo or control groups with which to compare results as to the efficacy of the practice.
There is no denying the fact that decompression therapy is a totally noninvasive and a non-pharmaceutical in nature and that in itself is a very attractive feature about this therapy. This accounts for its popularity, and there are very few side effects to complain about.
Dr. Grant provides you this safe and sure way to live a better life without any pain exclusively at his clinic.
Beneficial Uses for Decompression Therapy by Dr. Grant
Dr. Grant makes use of this therapy for people who are suffering from Herniated Disks, pinched nerve, slipped disk, Bulging discs, degenerative joint disease and the like. It is one of the most effective treatments that you can use.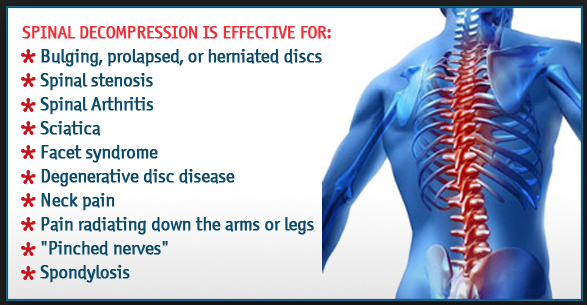 The neuro flex decompression machine, which Dr. Grant has been using for the past 30 years now, has helped countless patients on their way to recovery. The decompression technique distracts the disc and allows the gel of the herniation to get sucked back into the disks. It opens up the fluids and allows proteins and other relevant nutrients into the disk and helps to rehabilitate your spine.
Treatment Procedure – What to expect under Dr. Grant?
One session of decompression therapy with Dr. Grant typically lasts for 45 minutes to an hour. The duration of the treatment is about 30 sessions, stretched over the course of 6 weeks.
In addition to the therapy, Dr. Grant will employ other ancillary treatments like electric stimulation to relax the nerves around your affected area, cold or heat therapy before or after the session depending upon the need of your body. Sometimes Dr. Grant also includes ultrasounds in his sessions, which helps you to see how well the treatment is going, where your target area is and the like.
Decompression therapy is a useful option to consider to get rid of the annoying back and neck pain. Just call him today and make an appointment today.