Spinal Decompression – How Do You Deal With It?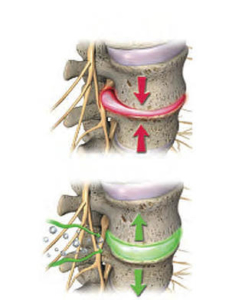 The vertebral discs between the vertebrae act as shock absorbents for the body. Due to inordinate shocks, poor posture habits or other factors like whiplash from auto accidents, wear and tear, morbid obesity etc, can cause these discs to bulge out or get ruptured. This is a very painful condition and if not treated in time, it could lead to long term issues.
If you are looking at a treatment that is non invasive and does not involve too much medication, the Dr James Grant is your man. Associated with the Accidents and Injuries Clinic in Utah, Dr Grant is a national board certified chiropractic physician. He has had an active practice for over 30 years now. He talks about Spinal Decompression therapy as a successful treatment for painful back problems.
Spinal Decompression and How Dr Grant Can Help
Dr Grant uses Spinal Decompression as a non invasive procedure. It is a traction procedure that he has applied successfully to lower back pain, stiff joints, degenerative spinal disease and facet joint diseases. By effectively managing spinal traction and distraction Dr Grant helps to heal patients. In his vast experience, Dr Grant reports that Spinal Decompression is most useful for people that have herniated discs, slipped discs, bulging discs, bulging stenosis, or degenerative joint disease.
Dr Grant's application of Spinal Decompression therapy works very simply. It distracts the discs and allows the gel substance of the displaced disc material to get sucked back into the disc. It opens up the synovial fluids that allow proteins and nutrients into the disc and helps to rehabilitate the spine. Thus with Dr Grant, the Spinal Decompression therapy will allow your condition to heal. Not only this, Dr Grant's expert guidance will allow greater mobility and flexibility to the spine.
Effectiveness of Dr Grant's Spinal Decompression
Spinal Decompression is one of the most effective methods used by Dr Grant to treat these types of conditions. Dr Grant uses a Kennedy neuro flex decompression machine for Spinal Decompression therapy. This is a state of the art machinery which was developed by Dr Kennedy, who has been doing decompression therapy for 30 years. By the help of this traction table, Dr Grant helps to induce passive movement into the spine, which further paves the way to better mobility and makes the Spinal Decompression treatment go smoother and faster.
Spinal Decompression is a better option than simple traction. This is because spinal decompression uses a better apparatus and improved manual techniques. It is an improved science over simple traction, and helps the patient to get back to a normal schedule in a matter of weeks. Additionally, Spinal Decompression, like physical therapy, is normally covered by health insurance and insurance deductions.
If you have been suffering from these painful conditions, or know of somebody who is, you can easily get in touch with Dr James Grant at the Accidents and Injury Clinic for Spinal Decompression treatment. For more information, and to explore other forms of treatment offered by Dr Grant, visit saltlakeinjurychiro.com