Therapeutic Ultrasound – How Can It Help?
The Science behind Therapeutic Ultrasound as Explained By Dr. James Grant

Therapeutic Ultrasound, a high-frequency sound wave that is used to stimulate the soft tissue of a muscle or tendon or joint, can decrease the swelling, increase the blood supply, enhance the oxygen supply to your joint and help heal the tissue at an accelerated rate.
Dr James Grant, a reputed Chiropractor, finds this method to be very useful. He has been able to relieve many patients of their pain using this treatment.
It is a therapy that is frequently performed by him, with good results.
Therapeutic Ultrasound and Its Procedure at Dr. Grant's Practice
Therapeutic ultrasound has found various relevance in medical therapies. From breaking down kidney stones to the treatment of the cataract, ultrasound therapy has profound uses.
Similarly in the field of Chiro care and pain management, ultrasound therapy has great importance. The procedure of this therapy is very simple. By way of an external applicator, the ultrasounds are applied directly to the skin of the patient.
A gel is smeared over the area to be treated before the session starts. The purpose of the gel is to reduce friction between the skin and the applicator which, in turn, allows better and uninhibited transmission of waves into the body of the patient.
It is a safe and totally comfortable procedure used by Dr. Grant in pain management.
Success Rate of Ultrasound Therapy for Pain Management
As a National Board certified chiropractor, Dr. Grant found ultrasound therapy to be very helpful for the patients. This therapy has been making success stories of its own since the 1950s. The treatment is brief, periodic and painless in its procedure.
It is capable of application to pain causing muscular skeletal problems like chronic backaches, joint pains, and the like. As mentioned before, ultrasound therapy helps the aching muscular tissue to relax and expand.
To provide further relief, it promotes a greater flow of blood and oxygen to the target area for better healing.
Benefits of Ultrasound Therapy
The reason why eminent chiropractors like Dr. Grant recommend ultrasound therapy is because it is a non-invasive procedure which requires practically no interference with the body. It is an external procedure that helps to minimize pain.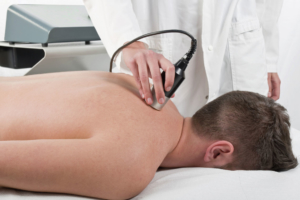 Most importantly, it does not involve any thermal process at all. So there is no discomfort during a therapy session. You can simply lie back and relax and let the physician do his work.
It also does not require any prescription follow up. So you need not worry about purchasing expensive pain medication to supplement the procedure.
Dr. Grant has been a successful chiropractor for the past 30 years and is very good at what he does. If you want to explore this therapy and get relief from your pain, you can easily reach Dr. Grant by making a call at the Accident and Injury Clinic. For more information and options, you can visit their website at saltlakeinjurychiro.com