Work Accident Injury – How Do You Deal With It?
Work Related Injuries: Effective Treatment by Dr. Grant
Work accident injuries sustained in the course of one's work, is more common than you might think. It could be a fall or a number things that could occur at the workplace, and you may need to go to the doctor. Apart from work accident injuries, work-related injuries are common too, like developing pain or spine problems because of sitting at your desk job every day.
That's why some work contracts come with a pre-determined doctor and physician that work with injury victims.
Dr. James Grant is a Board certified chiropractor physician in Utah and explains how one can effectively deal with work related injuries.
In Utah, anybody who is involved in a work injury can choose any physician they want to treat them, it does not necessarily have to be one designated by the employer.
What Should You Do In Case of a Work Injury?
If you were involved in a work injury, and you have injuries to the neck, back, spine or the shoulder, or any other muscular skeletal problem, Dr. Grant's treatment can complement the healing process.
Dr. Grant suggests chiropractic care to patients who are looking for an effective recovery without any use of chemical or invasive treatment. Regular medical treatment, for instance, comes with a lot of pain medication, but not the actual healing. Many victims still report pain as late as 4 months post treatment.
Choosing Laser Therapy at Salt Lake Injury Chiro
Dr. Grant uses laser therapy to heal work injuries and related discomfort.
In laser therapy, you direct the waves towards the affected areas using photo-bio effects, without actually burning the skin.
This helps to increase the flow of blood and oxygen to the site of the injury, and warms up the injured muscles, helping them come out of spasm. With its anti-inflammatory effect on the muscles, it can help relieve pain in a short time.
How Long Does it Take to Recover from a Work Accident Injury?
Dr. Grant's goal is to get you back to work as soon as possible. The amount of time it would take you to recover and get back to a normal life depends on the extent of your injury.
Laser therapy will help to regenerate the crushed muscles around the bones, by trying to redevelop contraction properties and facilitate better absorption of proteins for its repair. It's a safe and a widely accepted method of treatment with no side effects of this therapy and has a high success rate.
Work Injury Treatment by Dr. James Grant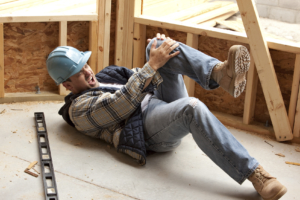 Dr. James Grant has over 30 years of experience treating work and auto injuries. His Salt Lake Injury Chiro is equipped with state of the art equipment, including class 4 lasers that will heal tissue at an accelerated rate.
If you get injured at work, Dr. James Grant can help you. If you have any questions, just book an appointment with him at the Salt Lake City Accident and Injury Clinic.